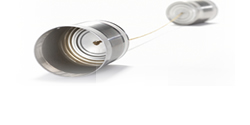 There's a Better Way
In today's marketplace, you need a sophisticated strategy to address all your communication channels. There are internal communications as well as external communications to consider.  And those channels flow both ways.  Isn't that what communication is all about?  A dialogue between parties.
CM2 offers a variety of communications strategies, including Advertising Campaigns, Announcements, Article Ghost Writing & Placement, Blogs, Business Storytelling, Crisis Communications, Internal Communications Campaigns, Media Outreach Campaigns, Media Talking Points, Media Training, Press Releases, Social Media, and Speech Writing.
What do your customers say?
General Counsel want the opportunity to provide feedback on your work but are not usually asked.  Learn what you're doing right, how you can improve your services and expand the relationship by providing your clients this added benefit.  Stand out from your competitors by allowing your clients to speak freely to a neutral third party.  CM2 is experienced at providing client surveys and can help you uncover this valuable feedback.
What do you want to say?
Ensure your messages are consistent no matter what communication channel is utilized by enlisting the assistance of a professional communications strategist.