See on Scoop.it – Marketing Your Brand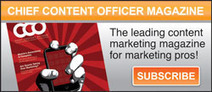 Excerpted from article by Joe Pulizzi on Content Marketing Institute:
"Whether you sell products or services, the new rules of marketing require that, along with everything else you sell, the process of delivering consistently valuable information must be considered throughout the organization as, yes, a product.
Why approach information as a product?
Simple: Organizations today have no choice but to place that kind of importance and processes behind their content initiatives. Customers today are in complete control and filter out any message that does not benefit them in some way.
We are seeing this trend happen now, as more businesses morph themselves into media companies. You are seeing appointments of titles such as "chief content officers" and businesses that are starting to hire full-time journalists.
In order to be successful, you need marketing culture that includes both a strong marketing and publishing core, and a keen understanding of how consistent editorial content can maintain or change customer behavior.
Three takeaways:
– Start to think about your content packages as a series;
– All product managers need to be trained in advanced storytelling techniques;
–  The pilot team…"
Read full original article here:
http://www.contentmarketinginstitute.com/2012/08/information-must-be-your-product/